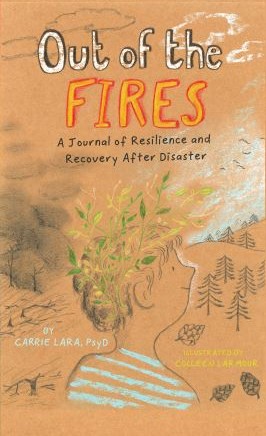 "Let me tell you about that one day everything was there, and then there was nothing."
Out of the Fires: A Journal of Resilience and Recovery After Disaster is an inspiring journal will help victims of natural disasters as they follow a boy who is healing after a devastating wildfire in his county. Presented as a scrapbook type of journal filled with drawings, news clippings, and coping strategies, this book is chock full of information on cultivating resilience after a natural disaster.
Things may never be "normal" again, but he discovers that he is resilient and strong—even when hard things happen.
Includes endmatter on the topic of building resilience.
Reviews
The aftermath of a natural disaster becomes an educational narrative.

Narrated by a boy coming back to school following a wildfire that canceled classes for two weeks, this book is intended to help young people grappling with similar events. The first section deals with the return to school in paragraphs broken up by related, colored pencil–esque images. The boy learns strategies for dealing with trauma (writing, drawing, taking deep breaths). It's not until the second section that readers discover exactly what happened, though the author's introduction details the 2017 California wildfires that inspired the book. This section describes the fire and the boy and his family's evacuation, giving readers a child's-eye view that, amid the chaos, grounds itself in people's kindness. The narrator's reaction to the fire evolves over time; sometimes he feels angry, other times sad and lost. Moments of frustration are conveyed, too: "My emotions exploded," he says, alongside an image of a mushroom cloud. However, seeing his friends again makes him feel happy; the child's emotional journey will reassure both young people and adults. Interspersed news clippings describe what is happening in the community at large, though the narrator mostly focuses on his personal journey. At the end, however, he discusses worldwide disasters, and he and his classmates send encouraging messages to kids in Australia, where wildfires also raged.

An important guide to finding strength after trauma for children and guardians alike. (resiliency and coping worksheet, additional resources) (Fiction. 8-12)

— Kirkus Reviews
In the aftermath of a wildfire that destroys his family's home, a young boy turns to his journal as an outlet, processing his emotions through writing and drawing. Earnest and forthright, the boy's journal entries follow his gradual understanding that "there is no right or wrong way to feel" as he develops coping strategies with the help of his teachers, counselors, and family. Award-winning author and licensed clinical psychologist Lara deftly models a child's journey through grief and resilience in this empathetic, unintimidating portrayal of loss. Multimedia illustrations by Larmour enrich the narrative, from colored-pencil sketches to sandwich crumbs to newspaper clippings. Drawings add depth and significance to the entries by filling in the gaps when words aren't enough—or when they're too much. Published by the American Psychological Association, the book provides a hopeful narrative of healing to young readers experiencing disruption from climate disasters or other crises. The book includes extensive back matter resources on resilience and coping with disasters for readers and caregivers.

— Rebecca Reitemeier, BookList, American Library Association
From the engaging and thoughtful graphics to identifying with our communities children's, emotions and feelings after witnessing the horrors of watching everything they know go up in flames, the author has truly captured the tapestry of what our children have and are going through and how they process stress and anxiety. The book ends with a focus on empowerment and the resiliency of community and provides kids with optimism and a holistic outlook on the future!

— Cyndi Foreman, Division Chief/Fire Marshal
Sonoma County Fire District
Available for purchase at: